Apache Trail Tours is based at Goldfield Ghost Town – just 4 ½ miles NE of Apache Junction, AZ. on the historic Apache Trail.  Our office is in the third building North of the parking lot on the East side of Main street (between Old Tyme Photos and Border Town).
Combine your guided desert or canyon tour with the many old West amenities available at Goldfield Ghost Town. There is no admission fee into Goldfield which offers plenty of free parking, unique activities, eateries and western shops.
Enjoy breakfast at the Coffee Cantina & Bakery, lunch at the Miner's Grill or a cowboy dinner at The Mammoth Steak House.
There are shops a-plenty offering prickly pear fudge, turquoise and silver, old tyme photos, cactus, and souvenirs. Take your best shot at the shooting gallery and pick out a cowboy hat to strut your stuff in!
From November to March, the Goldfield Gunfighters perform on the weekends from 12 noon – 4 PM.
Tours are available between 7 AM and sundown.  Call (480) 982-7661 to reserve your adventure and memories today!
Our web site is smart phone friendly and the location button will guide you right to us. Alternately, enter Goldfield Ghost Town as a "point of interest".
GPS address: 4650 N. Mammoth Mine Rd-Apache Junction, AZ 85119.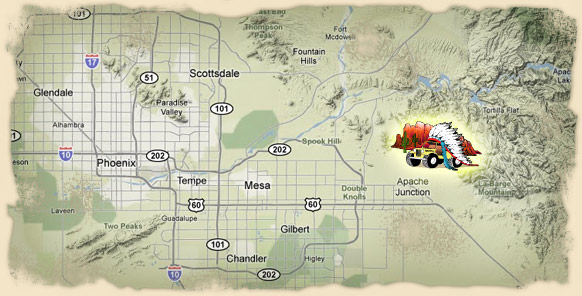 Click here for custom directions
Located 4.5 miles N/E of Apache Junction, Arizona on the Historic Apache Trail
From Phoenix
Take US-60 East (Superstition Freeway)
Drive east to exit 196 Idaho Road/AZ-88 East
Turn left on Idaho Road /AZ-88 East | 2.3 miles
Turn right at N. Apache Trail / AZ-88 East | 4.5 miles
Turn left at Goldfield Ghost Town!
From Tucson
Take I-10 North
Take 202E
Take US-60 W
Exit 196 Idaho Road/AZ-88 East
Bear right onto AZ-88 toward Canyon Lake
Go North through round-a-bout on AZ 88 East (Apache Trail)
Turn left at Goldfield Ghost Town